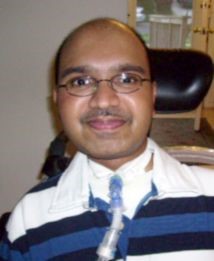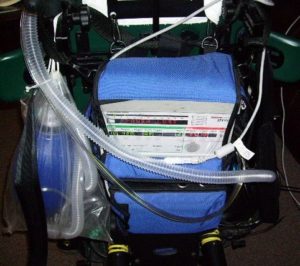 Hi I'm Harold Gomes,
The PowerTech Sigma Power center has helped to make life a little easier for me.
I'm in a wheelchair and recently had to start using a ventilator to assist my breathing. The "laptop" ventilator was small and light enough that it could be carried on the back of my chair—no ugly modifications were necessary to mount it. However, some modifications would be necessary to hold the clunky external rechargeable battery for the ventilator. The Powertech center proved to solve this problem—it's so small that it fits in the side pouch of the vent's backpack-like carrying case on my chair.
The PowerTech center transfers power from my wheelchair battery to my portable ventilator—without interfering in the way my chair operates. The wheelchair battery must be charged every night. Surprisingly, it gets me more power than the typical 9-hour external battery! Once, I was out somewhere 10 hours straight without any significant drain in power—the wheelchair power gauge indicted only 1/5 had been drained.
The best part is the fact that when I'm not moving—just watching TV or on the computer—the ventilator itself can be plugged into an electrical outlet. That way the chair battery power is saved.
The wheelchair battery needs to be replaced yearly (depending on battery size) ensuring that there won't be any lack of power. The PTC never needs to be replaced!
What a great invention!
-Harold Gomes